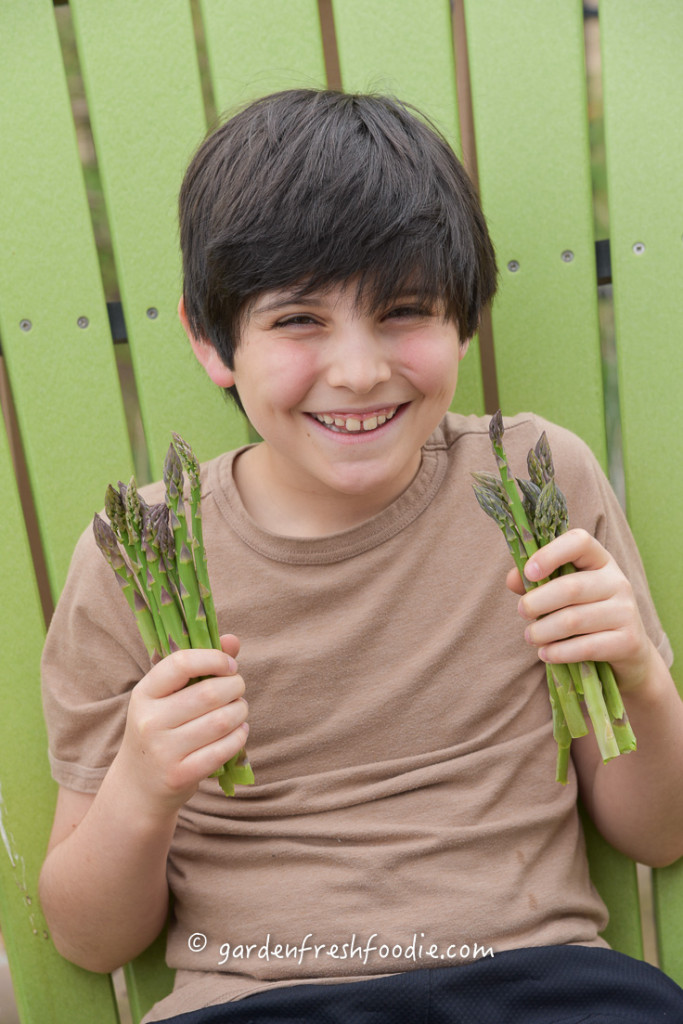 Maybe you have always wanted to start an asparagus patch. Then you hear it takes 3 years before anything comes to fruition. Well guess what, I bet it's been 3 years since you thought that, and you could already be eating awesome fresh, sweet, juicy homegrown and free asparagus! So go on, get yourself some crowns! And I mean today, or this weekend, as in, run!!!!!
Why is growing your own asparagus so AMAZBALLS?! Because, nothing, I mean nothing, tastes like freshly snapped asparagus. It's so sweet and juicy. I love showing off my asparagus. It's the highlight of my garden tour, I must say. Most people have never seen asparagus growing. By the time it makes it to the stores, it gets more bitter, and the tips have begun to open. This is because asparagus has a very high respiration rate. Meaning, even after it's picked, it continues to give off water and oxygen. This is why its taste changes so dramatically and it shrivels quickly. It's best consumed right as it's picked (if it can even make it inside before getting eaten), or within 2 days of purchase. This is actually the case for all spring foods (they're fragile). When I bring it inside, we place it in canning jars with some water to keep it as fresh as possible. When I used to buy asparagus, I never would have thought to eat it raw. Now, that's the way I like it best (or blanched for 20 seconds in a salad). Asparagus is expensive! Another reason it's so awesome to grow your own. It's easy for the kids to pick it, and the animals leave it alone! It's the only part of my garden I don't fence. If only I didn't have to fence…..ugh, sigh!
What's so great about asparagus for the body? Well aside from making your pee smell instantly (it's so weird how fast that happens, eh?), it's packed with nutrition! Asparagus contains an unusual carbohydrate called inulin, which acts as a prebiotic. "Inulin doesn't get broken down in the first segments of our digestive tract. It passes undigested all the way to our large intestine. Once it arrives at our large intestine, it becomes an ideal food source for certain types of bacteria (like Bifidobacteria and Lactobacilli) that are associated with better nutrient absorption, lower risk of allergy, and lower risk of colon cancer. Asparagus is rich in fiber (about 3 grams per cup, including about 2 grams of insoluble fiber and 1 gram of soluble fiber) and also contains a noteworthy amount of protein (about 4-5 grams per cup). (Source)" Asparagus is high in antioxidants like folate (great for pregnant women and developing brains), many of the B Vitamins, Vitamin C, selenium, and more. It's anti-inflammatory and great to help reduce inflammation in the body.
Asparagus is also very rich in Vitamin K. This is only an issue if you are on blood thinners (which for the most part, if you eat a plant-based diet you can get off of). Medications like Coumadin/warfrin have trouble regulating your body's clotting factors when Vitamin K levels fluctuate. There's no reason you need to avoid vegetables high in Vitamin K. What you do need to do is eat them on a regular basis so that your levels can remain consistent. Make sure your doctor is aware that you want to eat these foods, and they can adjust your medications as needed. You'll only run into a problem if you don't eat the same about of green foods each day.
Set the site:  To set a site for your asparagus, pick a western or southern facing exposure. You want to be sure it gets enough sun (at least 5 hours).  Choose a place that will have enough space for your patch, and one that you're fine devoting to asparagus for a long time.  Fertilize the area well with compost and an organic fertilizer like Holly Tone, by Epsoma.
Buy the roots: Asparagus is sold by root stock. They are referred to as crowns. It's best planted this time of year, in the spring, before things get too hot. If you live somewhere warmer, you may have past your window. If you've feel that you've missed the window, I'd still give it a shot. Just be sure to water them very well until they get established. Spread the roots out and space 1-2 feet apart in all directions.
Years 1-3: Your first year, you should let what ever grow, go to frond.  What that means is that you let them grow large and leaf out. They'll be spindly the first year, and most of the second. During the second year, you can harvest lightly, about 1/3 of the spears that grow. By year three, harvest them as fast as you can! They go from not being ready in the morning to full spears by the end of the day. Be sure to check them often! They can grow a foot a day. If you miss them after the tips start to open, then let them go. They will create next year's energy for the patch. Avoid picking spindly spears. These too should be left to go to frond.
Long Term Care: Be sure to fertilize the new area and water the patch well, so that the roots can get established. Once the plants are established they barely need attention, except some fertilizing in the spring and fall.  Asparagus can get a pest called asparagus beetle. These can destroy your stalks. Hand pick them and just crush them. If you can't keep up, try removing the most affected stalks. If not, it'll still be ok. I used to make myself crazy about these beetles, and then I just let them go, because I'm just too darn busy!  If you want to learn more about pests, and growing all veggies, I HIGHLY recommend the book The Vegetable Gardener's Bible
(I love it so much it's falling apart!).
Winter and Early Spring: At the end of the growing season, leave the patch alone. The stalks will die and are easily removed in the spring. You just rip them up. This is what the early spring patch will look like.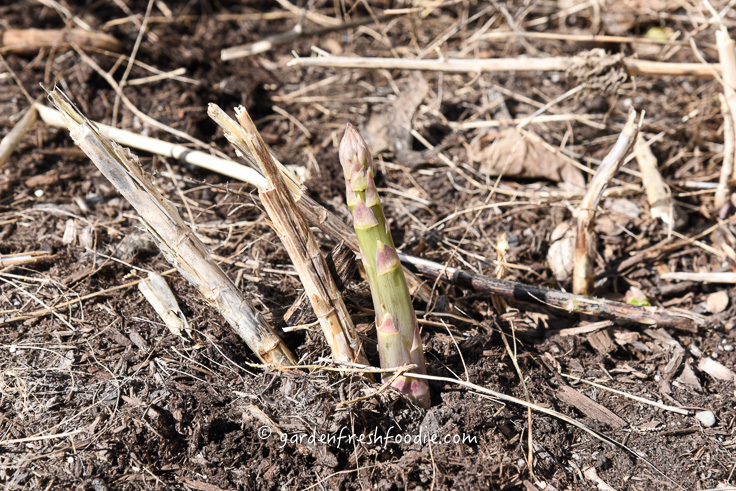 Those old pieces just get removed in the spring. Then be sure to fertilize the area. Watch this video to see how to cleanup your asparagus patch (just excuse the wind, I need to get a microphone).
Feel free to ask questions about growing this awesome veggie! You'll be so happy when you harvest your first spears! So, maybe I've gotten you hungry for some asparagus? How about you make my Springtime Quinoa Salad! I'll have more recipes to come. Bon Appetit!