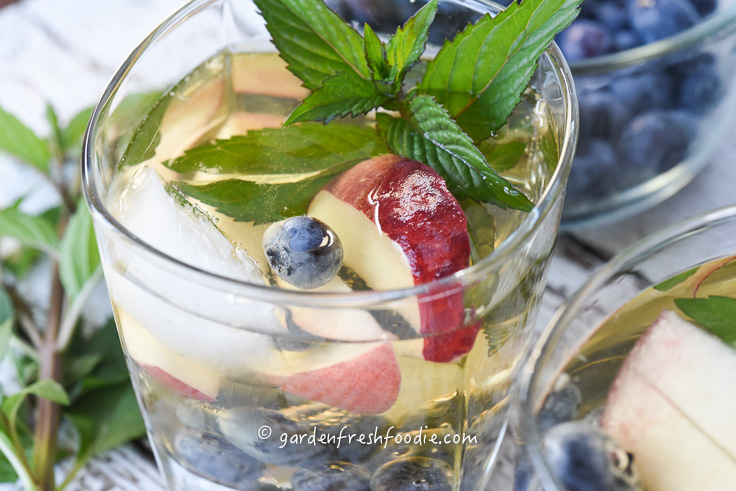 It's hot. You're having friends over and have NO desire to mix drinks for people. What's a gal who wants to make something pretty to do? Mix up a pre-made cocktail of course! The sangria bug caught me when my sister and I traveled to Spain. Taking some cold, crisp white wine and adding in some fresh in-season fruit is the perfect spin on this drink and great for a hot summer gathering!
Can we say that this is a healthy recipe? Well, most sangrias have added syrups or sugars. I didn't add any, as the freshness of the summer fruits leave nothing to be desired. And, you are getting a dose of fruit with that wine, so….a little bit healthy?????? If you don't like peaches, swap them out for nectarines, cherries, or any other summer fruit you like! I like the combo of a softer fruit like blueberries and raspberries with a firmer fruit like peaches, nectarines, apples, or pears (in the fall).
For a smaller batch, split in half, but I'm always mixing for a large group!  Feel free to make this go further by serving on ice with some sparkling water. The sparkling water adds a little fizz without the nasty sweeteners and colors.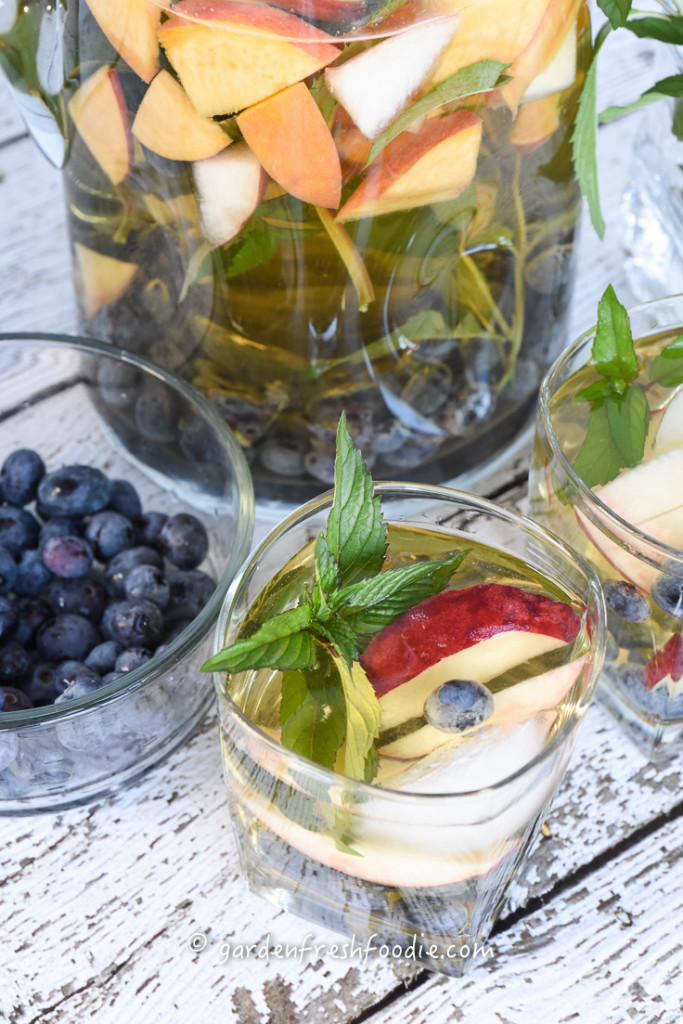 Ingredients:
2-750 mL of dry white wine, like a sauvignon blanc or dry reisling
3 mint springs or about 1/4 cup fresh mint leaves, and more for garnish
3/4 cup of brandy
3 cups of sliced peaches
2 cup blueberries or combo or blueberries/raspberries
*optional, serve mixed with sparkling water or on ice, or both
Instructions:
Add wine and add mint. Using a wooden spoon, bruise mint by pushing on it.
Add remaining ingredients and allow to sit over night in the fridge, or at 2  hours.
Sauvignon Blanc Summer Sangria
Ingredients
2-750 mL of dry white wine, like a sauvignon blanc or dry reisling
3 mint springs or about ¼ cup fresh mint leaves, and more for garnish
¾ cup of brandy
3 cups of sliced peaches
2 cup blueberries or combo or blueberries/raspberries
*optional, serve mixed with sparkling water or on ice, or both
Instructions
Add wine and add mint. Using a wooden spoon, bruise mint by pushing on it.
Add remaining ingredients and allow to sit over night in the fridge, or at 2  hours.
Serve chilled on ice with added mint sprigs, fresh berries, and sparkling water if desired