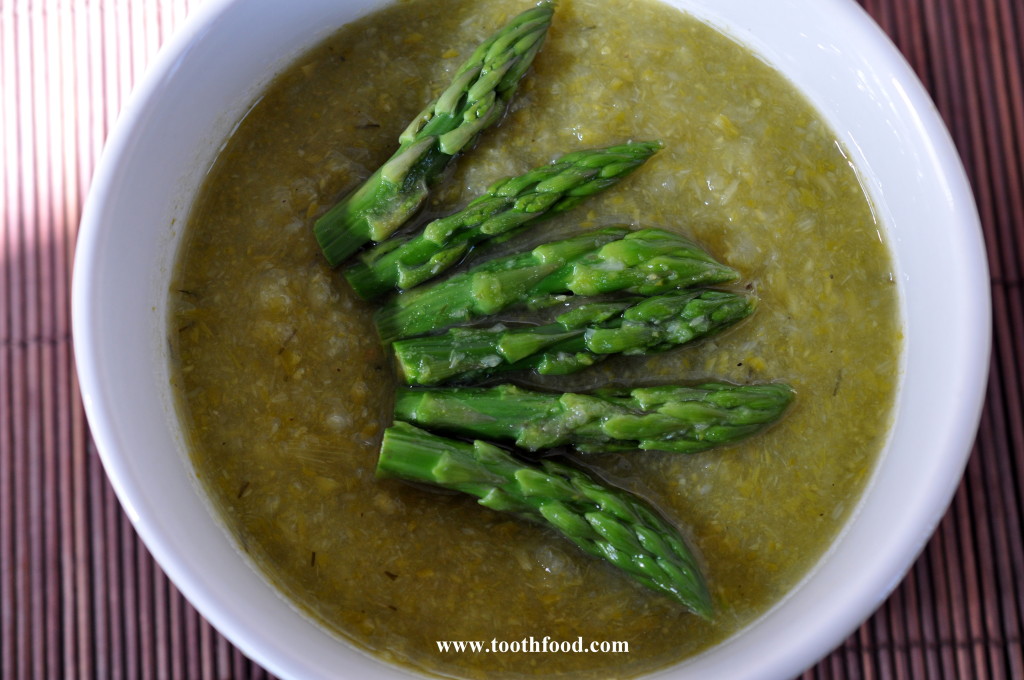 It's asparagus season! Even though it's springtime, it's been cold and wet in our parts of the globe. Therefore, it's still time for our favorite food, soup! Asparagus is a seasonal vegetable that loses it's vitality quickly. It's best picked straight from the garden. If that's not an option, try to get it as close to home as possible. If you're buying asparagus out of season, it's traveled a LONG distance to get to you. The longer the time between picking and eating, the lower the nutritional value (and higher your food footprint). This is true of all fruits and veggies, but especially asparagus. Try to enjoy this veggie in season. Look for tight tips. If they have split, they are past their prime and will not be as sweet.
I encourage you to try to grow it! The highlight of my garden tour is when I show visitors our asparagus patch.  Asparagus is a perennial, meaning it comes back every year. The picking season in our area is usually April-end of June/beginning of July.  This year we're behind schedule due to our long winter. It does take a little patience, but nothing will taste better than the asparagus you grow (it might not even make it into the house since you'll want to eat it raw in the garden most of the time!). The first year you plant (which would be in early spring), you don't harvest it. It will grown fern-like fronds throughout the summer. Leave these throughout the fall and winter and break them off the following spring. The second growing season, harvest only the larger stalks, leaving the very skinny ones to grow into fronds. From the third year on you can harvest as much as you want. As the weather warms, you will know when the season is ending when the asparagus grows more than a foot a day and you miss harvesting it (tips split open). You'll be so happy you started your own patch!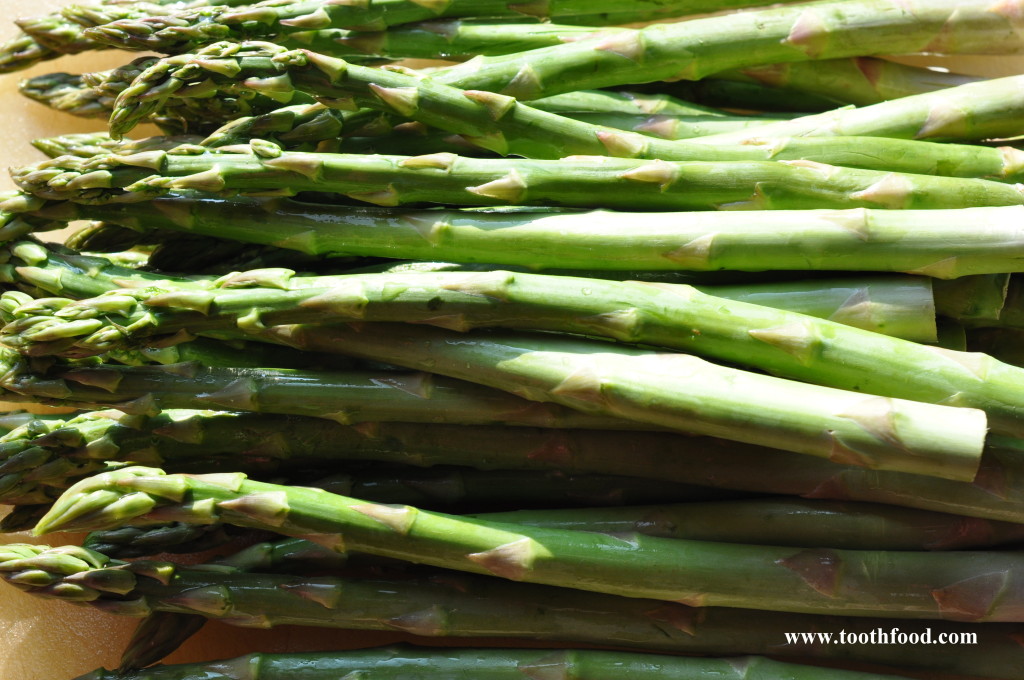 Here's our version of "Cream" of Asparagus soup.  The pureed vegetables take on a cream like consistency without the need for high fat/cholesterol creams. Like all of our soups, there is no sauteing. We feel that this is an unnecessary step. There's no need to add oils or additional cooking time. This soup is packed with fiber and antioxidants, very low in calories and sugar. What makes this soup even better is that it can be cooked in under 20 minutes, and is best not to over cook (don't want to lose the benefits of those green veggies!).
Serves 10-12
Ingredients:
3 pounds of asparagus (tough ends removed), tips cut off and set aside
2 cups of celery, chopped
3 cups of onion, chopped
1 pound of yellow potatoes, peeled (about 3 cups)
6 cups of water
1 1/2 tsp dill
1-1 1/2 tbsp dill (depending on how dilly you want it)-we used dry because we don't have fresh yet, but fresh is preferred (just up your amounts)
Pepper to taste
Instructions:
Place all ingredients, except asparagus tips, in a soup pot
Bring to a boil, reduce and cook until the potatoes are fork tender
Using a stick blender, puree.
Season with freshly ground pepper, and more dill if desired
Steam tips in a little water until bright green.
Top soup with asparagus tips and serve warm (could be eaten as a cold soup too if desired)
Nutritional Benefits:
High in fiber: helps with digestive health and blood sugar regulation
Packed with antioxidants to fight many health aliments; cancer prevention
Vegan and gluten free
Heart healthy
Diabetic friendly recipe
No fat or cholesterol
Low in calories
High in Vitamin K; in 1 cup of cooked asparagus 101% daily value; important for heart health
High in folate: 1 cup of cooked asparagus provides 67% of daily value; important for brain development
High in Vitamin B; responsible for healthy sugar metabolism, helps regulate blood sugar levels
Anti-inflammatory: high in Vitamins C & A (about 17-18% of daily needs); great for immune health, skin, nails, teeth, heart health, reducing inflammation caused by periodontal disease
Source: http://www.whfoods.com/genpage.php?tname=foodspice&dbid=12

"Cream" of Asparagus Soup: Vegan and Gluten Free
"Cream" of Asparagus Soup: Vegan and Gluten Free; made without cream
Author:
www.gardenfreshfoodie.com
Ingredients
3 pounds of asparagus (tough ends removed), tips cut off and set aside
2 cups of celery, chopped
3 cups of onion, chopped
1 pound of yellow potatoes, peeled (about 3 cups)
6 cups of water
1½ tsp dill
1-1½ tbsp dill (depending on how dilly you want it)-we used dry because we don't have fresh yet, but fresh is preferred (just up your amounts)
Pepper to taste
Instructions
Place all ingredients, except asparagus tips, in a soup pot
Bring to a boil, reduce and cook until the potatoes are fork tender
Using a stick blender, puree.
Season with freshly ground pepper, and more dill if desired
Steam tips in a little water until bright green.
Top soup with asparagus tips and serve warm (could be eaten as a cold soup too if desired)
Notes
Based on 12 servings: 101 mg Potassium, 17% of Vitamin C, 17.5% Vitamin A, 12.6% Iron, 5.6 % calcium
Nutrition Information
Serving size:
1/12
Calories:
43
Carbohydrates:
8.6 g
Sugar:
6 g
Fiber:
4.8 g
Protein:
4.5 g